The links in this post may be affiliate links. This means I may receive a small commission if you buy through these links, at no additional cost to you, which helps me run this blog.
Read my disclosure here
.
Well, friends, I have my computer back! I actually got it back on Friday (the next day!) but have been working on restoring all the things I lost. I had some trouble with getting my free photo editing software to work again, but it's working now (as well as it ever did.)
Last week I told you I was making monster cookies. Well, I did. And they were adorable. I'm giving a little bit of a tutorial for those of you who've asked, but I apologize in advance that I had to take the pictures at night, so they're not the best.
Anywho.
I made these cookies for a baby shower that my friend Emily was hosting. She sent me a picture of the invitation to get an idea of what the shower was all about.
Here are the adorable little monsters on the invitation. So cute, but a little tricky as to how to make them into cookies. After some deliberation, I decided on which cookie cutters to use for each.
an acorn, a snowman, a onesie, a lion (head), and a present. I know, some of these are more straight-forward than others. The middle one was the hardest for me to decide on. I don't have any rectangle cookie cutters, so I had to improvise.
After using the onesie cookie cutter, I took a knife and trimmed off the sleeves and… well… crotch area.
This is the cookie recipe I always use– it's from Bake at 350. I change the flavorings to suit my needs or wants at any given time.
I also use her royal icing recipe. I've always had good results with it, except this time it was kind of screwy. I used Wilton meringue powder, which I've done before, but it's not my favorite. But I've never had it react like it did this time. Maybe it's because I didn't have my computer, so I was relying on memory for all the nuances of the recipe.
When they were cool, I gave them eyes. (Cue the bad lighting.) To do this, I outlined them with white piping icing, then filled them with white flood icing. Then I used black flood icing on top of the white after letting them sit a few minutes. Then I went back again and put little dots with the white flood icing again.
For some of them, I forgot what I was doing and used piping icing for everything. They got kind of bug-eyed. I'm not sure what came over me.
While Bridget from Bake at 350 uses the icing straight out of the bowl for piping, I like to thin it out just slightly with water. But just barely. Then I thin out the flood icing to be about 10 second icing. That means when you run a knife through the icing, it takes about 10 seconds for it to disappear. This is how I like to do it, but others have their own way that works for them.
I also did the mouth for the little green guys. I tried to also do the teeth at this point, but they were swallowed up by the orange icing.
After a few hours of letting the eyes & mouths dry, we decorated the rest. I know I've been saying "I" this whole time, but my sister was helping for some of this time as well.
I decided to simplify the colors of the monsters slightly so I only made 6 colors. That's about the most you can make for one recipe, in my experience, and that's pushing it sometimes. I also only have 6 squeeze bottles & round tips.
To start, pipe an outline of the cookie. I like a #2 or #3 round tip for this. Usually the outline would be a little crisper, but the icing was acting up and I was also in a hurry.
Use flood icing (in a squeeze bottle) to fill in the middle, using a toothpick to spread it evenly to the edges and pop any bubbles that might show up.
Some of the monsters didn't completely resemble the cookie cutter, so I just piped the outline I wanted, disregarding the edges. I could have trimmed these like the onesies, but I didn't feel like trimming each cookie, and I didn't think the extra cookie around the edges was distracting.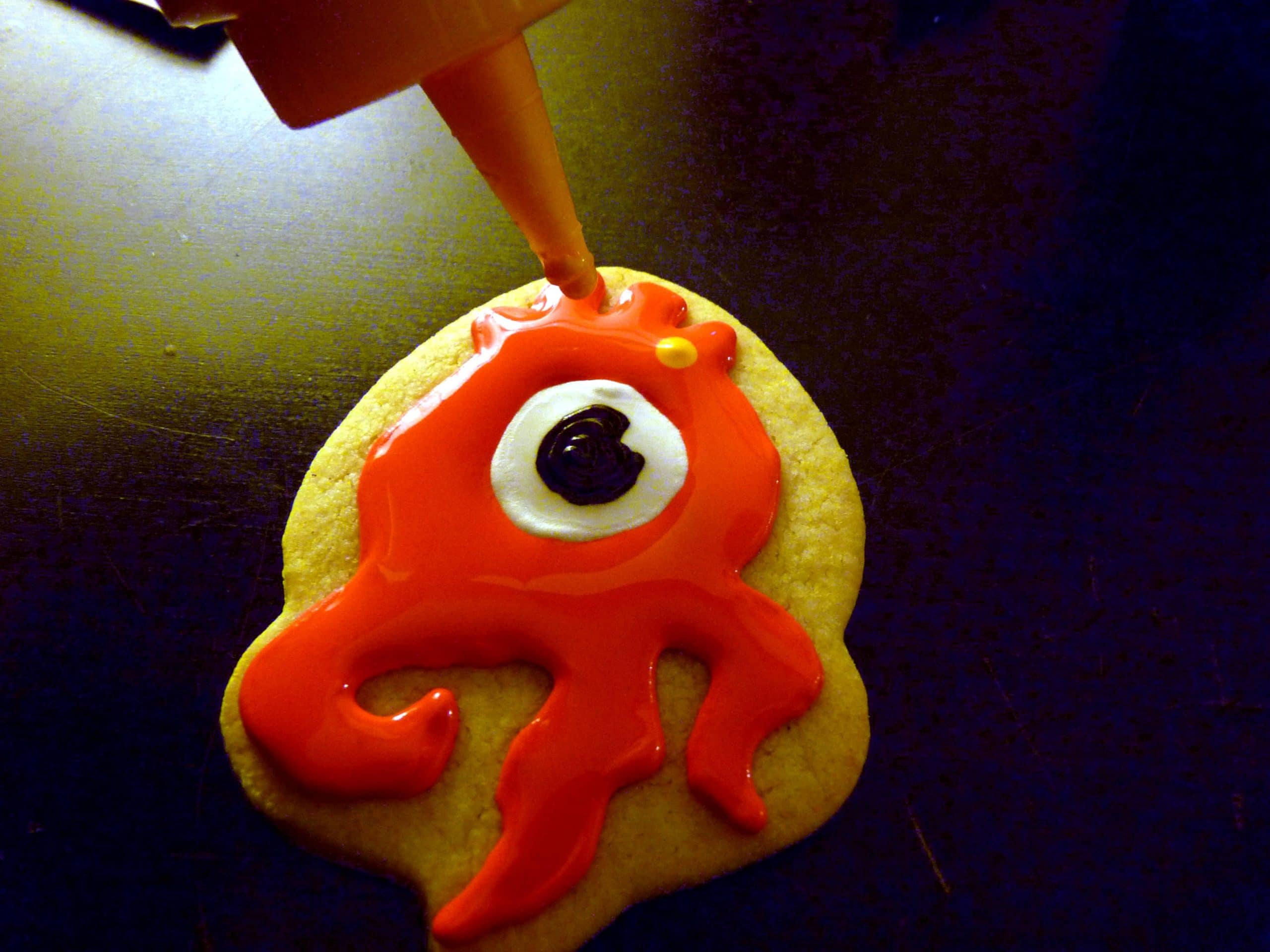 Here's an example of how to put dots on your cookie using flood-on-flood. While your base icing is wet (I usually wait a minute or two after flooding), use a squeeze bottle to carefully dot another color of flood icing on top. It will sink into the base and be flat.
Here's what they all look like finished:
I waited until the next morning to pipe the mouths, teeth and dimensional dots.
This guy is so cute.
But I think the red one is my favorite. But here's where the icing got really screwy– the red refused to dry! I generally leave cookies out overnight to dry, and that has always been enough time. But I left the red out for 3 days and it stayed tacky! The black did, as well. I have never had that happen and have no explanation. It's crazy. In fact, if I'd had time, I would have probably remade them. But last week was completely crazy busy.
In any case, they still came out cute, and I'm told they were a hit. 🙂
Now for Thanksgiving cookies… hmm…