The links in this post may be affiliate links. This means I may receive a small commission if you buy through these links, at no additional cost to you, which helps me run this blog.
Read my disclosure here
.
I made these bars last year. I photographed them. I edited the photos. I even started a post. But then it took me too long and rhubarb season was over, so I thought I'd sit on this recipe for a long year so I could share it when the time was right.
Now is the time.
I don't grow rhubarb in our garden (yet.) But my grandma does, and so sometimes we get some from her garden, and sometimes we pick some up at the farmer's market. But I don't actually have that many recipes for rhubarb, so I searched through my grandma's recipes and found this lovely.
"Rhubarb Dessert." Don't you love how descriptive that is? Ha.
This recipe, like most I have of my grandma's recipes, is the bare bones of a recipe. All the ingredients are there, but the very minimum of directions. But don't worry, I'll fill it in for you.
Isn't rhubarb just gorgeous? You'll need to chop enough to make 5 cups. Just some 1/2 inch slices is just fine.
Please note, I made only half a recipe of this, since I didn't think it would last a terribly long time in the refrigerator, and it was just Hubs & I eating it this time around.
The crust is a simple shortbread. Cream the butter & sugar, add the salt and flour, and press into the bottom of your pan. I opted to line the pan with parchment that overhangs on two sides. This makes it easy to remove from the pan to cut. It's not strictly necessary, though. My grandma never does this, and I'm not sure how well it would work in a 9×13 pan. Dock it with a fork to keep from getting any large bubbles.
Beat together egg yolks, flour, sugar, and milk. The recipe calls for evaporated milk, with a nice little note that says "less if regular milk." Specific enough for you? I didn't have evaporated milk, so I used a mixture of milk and cream. I think it was about 3/4 cup total instead of the 1 cup of evaporated milk.
Mix the rhubarb into this mixture.
Bake for 50 minutes.
This was the first time I had ever made a meringue topping like this. I tried to be careful not to overbeat the egg whites, but I still managed to push them over the "stiff but not dry" consistency we're going for. It's not the hugest deal if this happens, but it can cause your meringue to weep a bit, as mine did. It was just a little, and it still tasted good, but it wasn't perfect. So do your best, but know that if you overbeat your egg whites, it'll still taste good.
Add the sugar gradually.
After you've added the sugar, it should look something like this. Spread the meringue on top of the baked rhubarb mixture, and create some peaks.
Bake again until the top is browned.
I prefer to eat this once it's chilled, mostly because I find warm-ish meringue to be sort of offensive to my palate. But you can eat it at any temperature you find appealing.
The textures here are lovely. Firm shortbread, a silky custard with soft (but not mushy) rhubarb, and pillowy meringue clouds on top. The rhubarb retains a nice tartness that is balanced well with the sweet custard, while remaining the star of the dish.
This is a great dish to bring to a party or picnic. It's deliciously summery. It holds up well in the fridge for a couple of days, but it's best the same day after it's thoroughly chilled. It makes a great breakfast the next day. Not that I'd know, of course.
Enjoy!
Rhubarb Meringe Bars
Servings: 12
Difficulty: Intermediate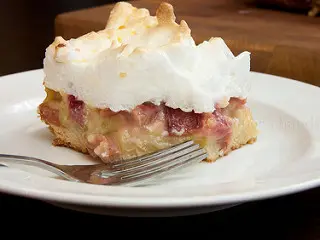 Ingredients:
Crust:
1 cup butter, softened
1/2 cup sugar
2 cups flour
1/4 tsp salt
Filling:
2 cups sugar
1 cup evaporated milk
1/4 cup flour
6 egg yolks
5 cups rhubarb, cut into 1/2 inch pieces
Meringue:
6 egg whites
1/2 cup sugar
Preheat oven to 350˚. Make crust: Cream together butter & sugar, then add salt. Add flour and mix to combine. Press into 9×13, and dock with a fork. Bake for 10 minutes.
While crust is baking, beat together sugar, flour, evaporated milk, and egg yolks for the filling. Stir in rhubarb. When crust is finished baking, pour filling onto crust and return to the oven. Bake for 50 minutes.
While filling is baking, make the meringue. Beat egg whites until stiff, but not dry (don't overbeat or meringue will weep) then gradually add sugar until all combined. When filling is done baking, spread meringue on top and create peaks. Bake until lightly browned on top, about 10 minutes.
Cool on wire rack, then chill before cutting into squares and serving.
This recipe is easily halved and made in an 8×8 square pan.