The links in this post may be affiliate links. This means I may receive a small commission if you buy through these links, at no additional cost to you, which helps me run this blog.
Read my disclosure here
.
So, my oldest is EIGHT now. While I personally find this unacceptable, we still opted to celebrate the occasion. And given his affinity for Minecraft these days, having a Minecraft birthday party was a no-brainer!
Minecraft Birthday Party
So I broke my first two rules of birthday parties, and I did not plan or make ahead this time around. Somehow with school starting and everything, Little Man's birthday snuck up on me. If I had been on top of things, this would've been one of the easiest parties ever, since I only made the cake and everything else was purchased with very little prep and not a lot of expense. My favorite kind of party!
Decor
First, let's talk a little bit about the decor.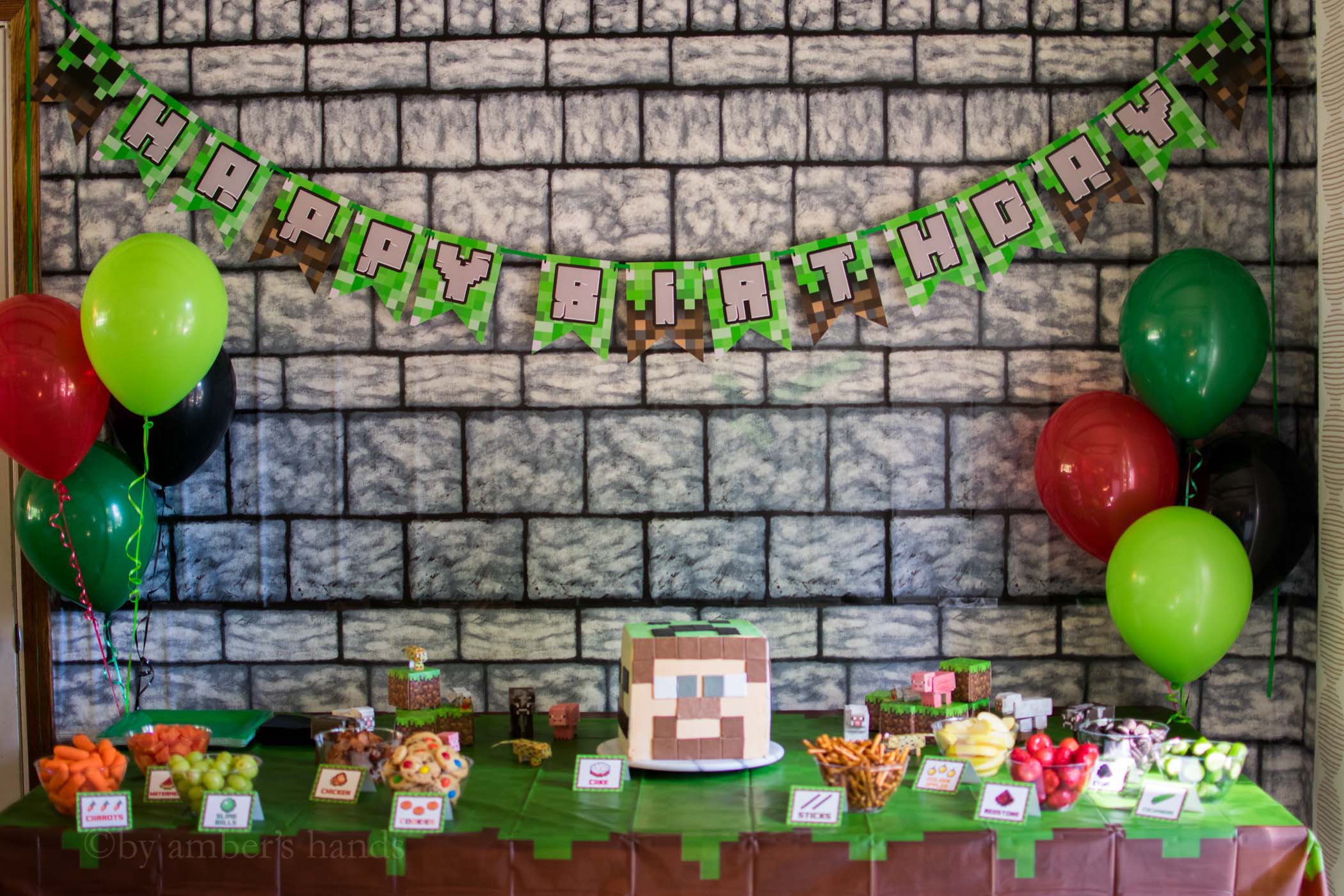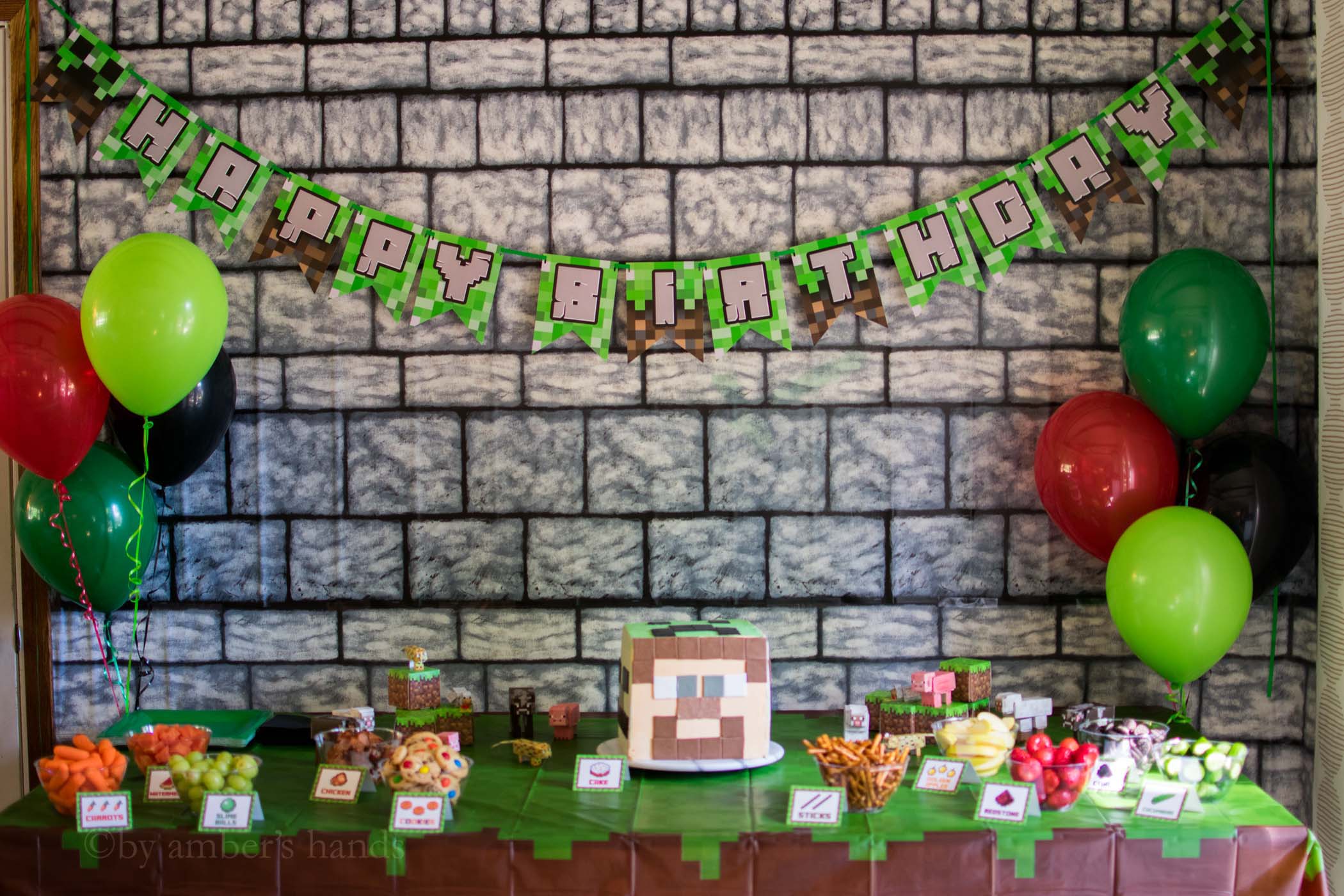 We found this stone wall at Party City. I found it initially when I searched "Minecraft" on the website, but in the store it was in with the Halloween stuff. It's not perfectly Minecraft, but it still gave a fun backdrop on the wall behind the table! Tons of impact with just a few strips of tape.
I got this birthday banner from Amazon
, as well as these super cute little Minecraft figures
, and this table cloth
.
The figures had to be assembled, but LM was super excited to do it himself. Decorations that also occupy my children? I'm in.
Other than that, we just got a few balloons and we were golden!
Food
Ok, let's talk food. Other than the cake (which we'll get to later) the food was very simple.
I purchased a download of tented food cards from Printabelle and used those to decide on which foods would be easy and fit with the descriptions. I *could* have made cookies, but I bought them instead. Again: no time.
The kids loved this style of food and they ate almost everything!
I also made this "potion" to drink. I know it looks like swamp water, but it was actually really delicious! I mixed 2 parts lemonade with 1 part V8 Healthy Greens juice
 and it was perfect!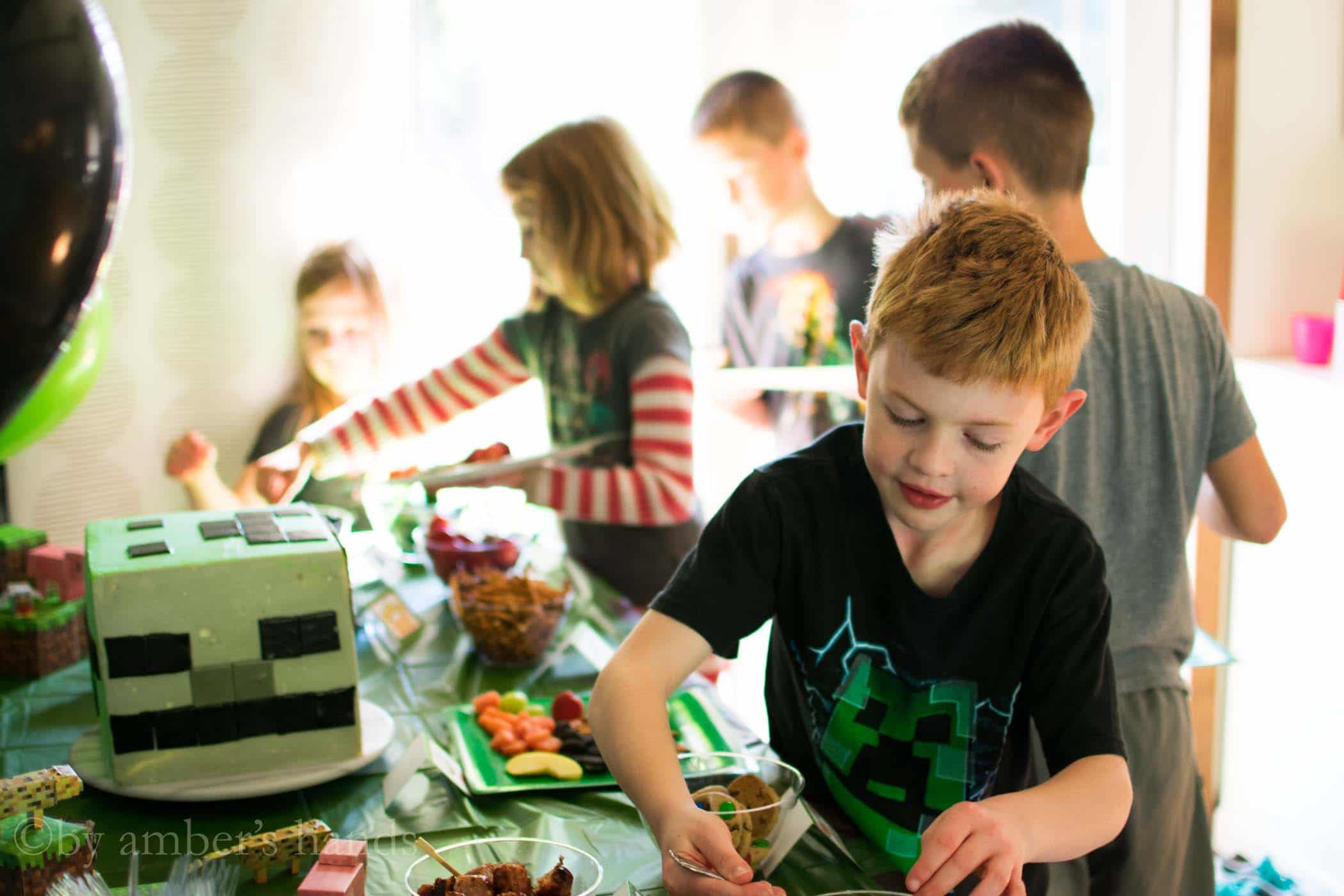 Activity
I was at a complete loss for what to do for a party activity until I came across this post from Jonesing2Create. It seemed easy enough to pull together, and a long enough activity that we didn't need to come up with another.
We used the directions in her post, using plaster of Paris and sand in some dollar store loaf pans to create the molds.
We used these gemstones
 from Amazon. The kids loved finding them. Then they spent time trading with each other to get the ones they wanted.
Cake
The cake! So this was the one thing I actually made for the party. It was a decent amount of work, but if I'd been able to make some of it ahead, it would've saved me a ton of headache! I had to pull this together the afternoon before the party and the morning of.
To make this cube, I used a 9×9 square cake pan, and made 6 layers of chocolate cake. The baking of the cakes took the longest amount of time. If I were doing it again, I'd make the layers a week ahead of time and stash them in the freezer, tightly wrapped in plastic wrap and sealed in ziplock bags.
I made a dark chocolate mousse to put between the layers and it was a really great addition.
To decorate, I used German buttercream frosting. It's one of my favorites and is less work than a lot of other buttercreams. After doing a crumb coat, I colored the frosting and used different colors on the sides to create a creeper, Steve, an iron golem, a zombie, and a skeleton face.
I used fondant to create the squares for each face. If I were doing this over, I would have frosted the cake entirely the day before the party, kept it in the fridge or freezer, and added the fondant the day of the party.
Happy 8th Birthday, bud!
All in all, this was a super fun party. The kids had a blast and we pulled it together with almost no time!
What's your favorite party theme? Let me know in the comments!