The links in this post may be affiliate links. This means I may receive a small commission if you buy through these links, at no additional cost to you, which helps me run this blog.
Read my disclosure here
.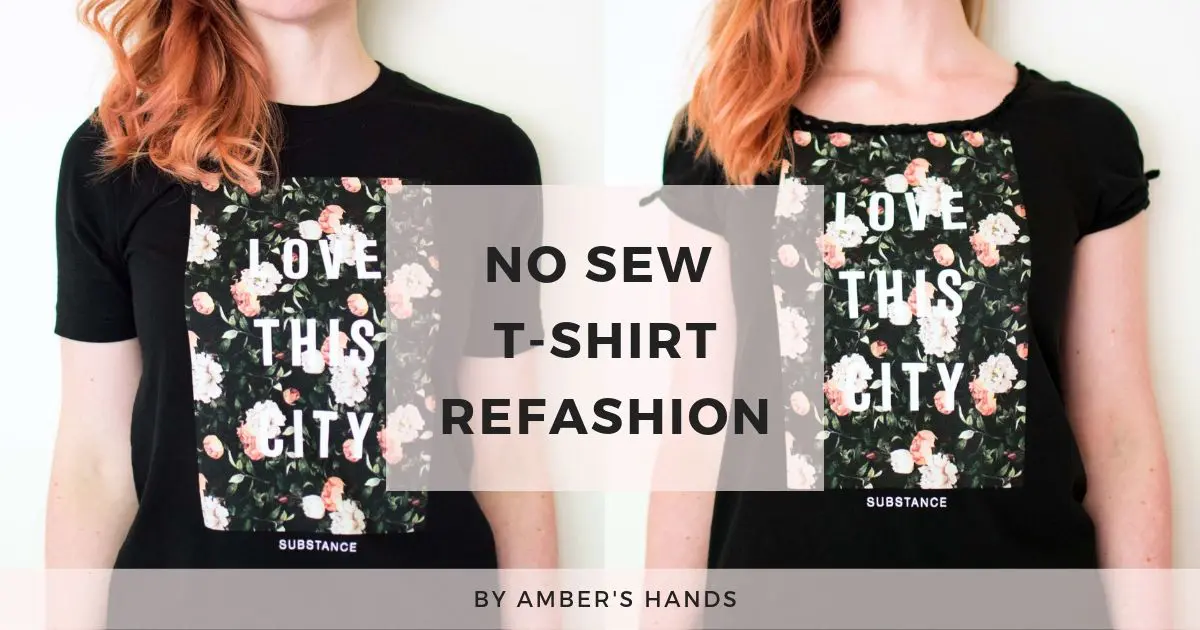 I loved this shirt the moment I laid eyes on it, but crew neck shirts are not my jam. Sometimes I put them on, thinking I can deal with them, but somewhere within the first hour I start to feel like I'm being choked. Also these sort of unisex-cut shirts can be really boxy, so I created this no sew t-shirt refashion to take this from boxy to feminine. And it only took me about an hour!
No Sew T-shirt Refashion
I never buy crew necks. Never. I have a few that I've gotten free from different places, but I never pay money for them.
Except that I kind of fell in love with this shirt. I love the floral motif (even though I'm not generally much of a floral girl) and I love the sentiment.
But these are unisex shirts and the cut does nothing for me, honestly. Maybe it means I'm vain, but I just don't love wearing things that I don't feel are flattering.
As a woman who tends toward an hourglass shape, these shirts make me feel boxy and shapeless. And crew necks make me want to Hulk out.
So the crewneck is where we started. First I turned the shirt inside out and cut off the collar at the seam. Then I drew a quick outline of what I wanted for the neckline. I couldn't really cut the front down a lot lower and keep space for the braid, so mostly I took it a little wider and squarer.
I used soapstone chalk
for marking this project.
It doesn't have to be totally perfect, since the braid will change it as well. But you want it to be mostly symmetrical.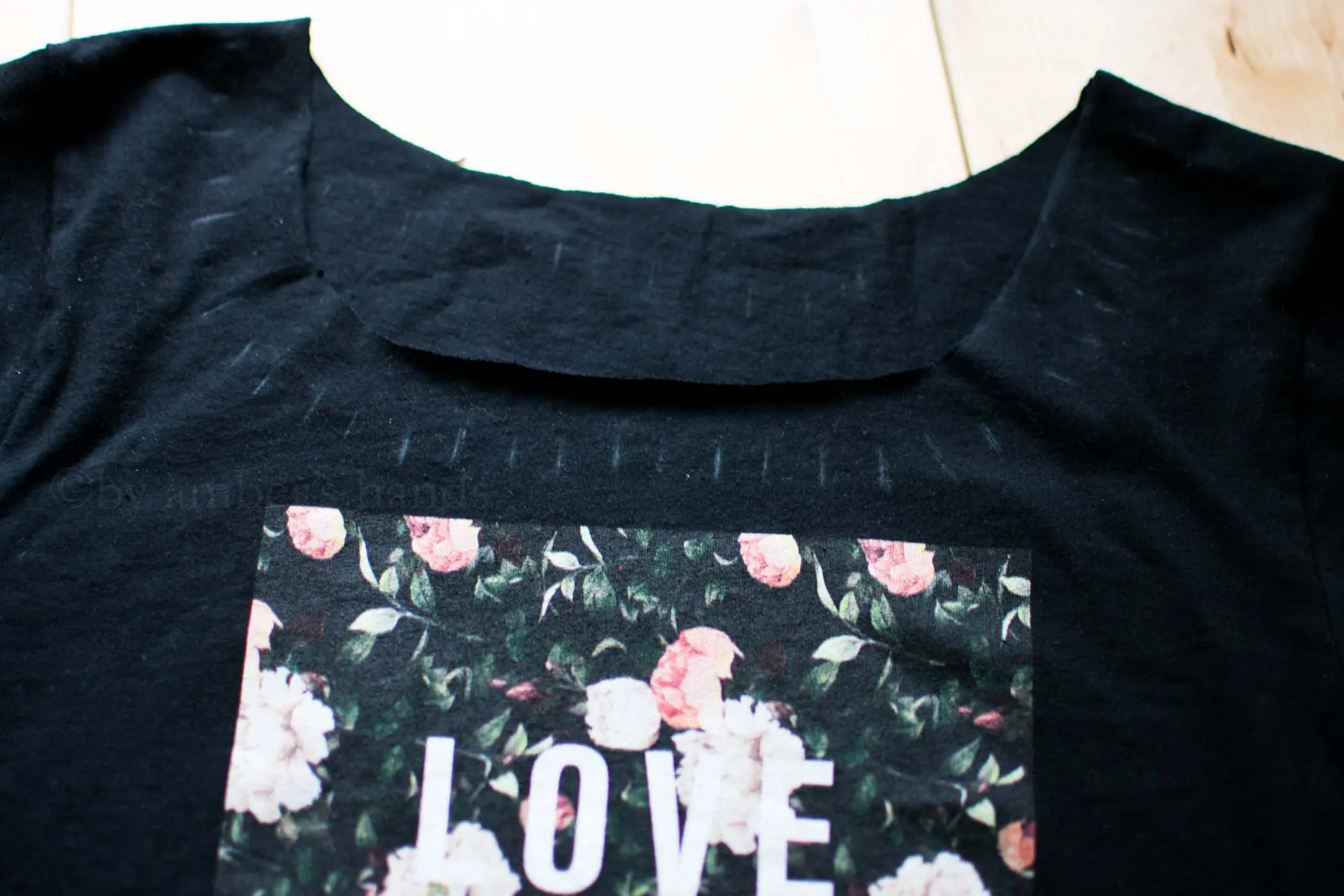 After cutting the neckline, I marked out lines one half inch apart all along the neckline, front and back. I tried to keep the lines perpendicular to the neckline as much as possible.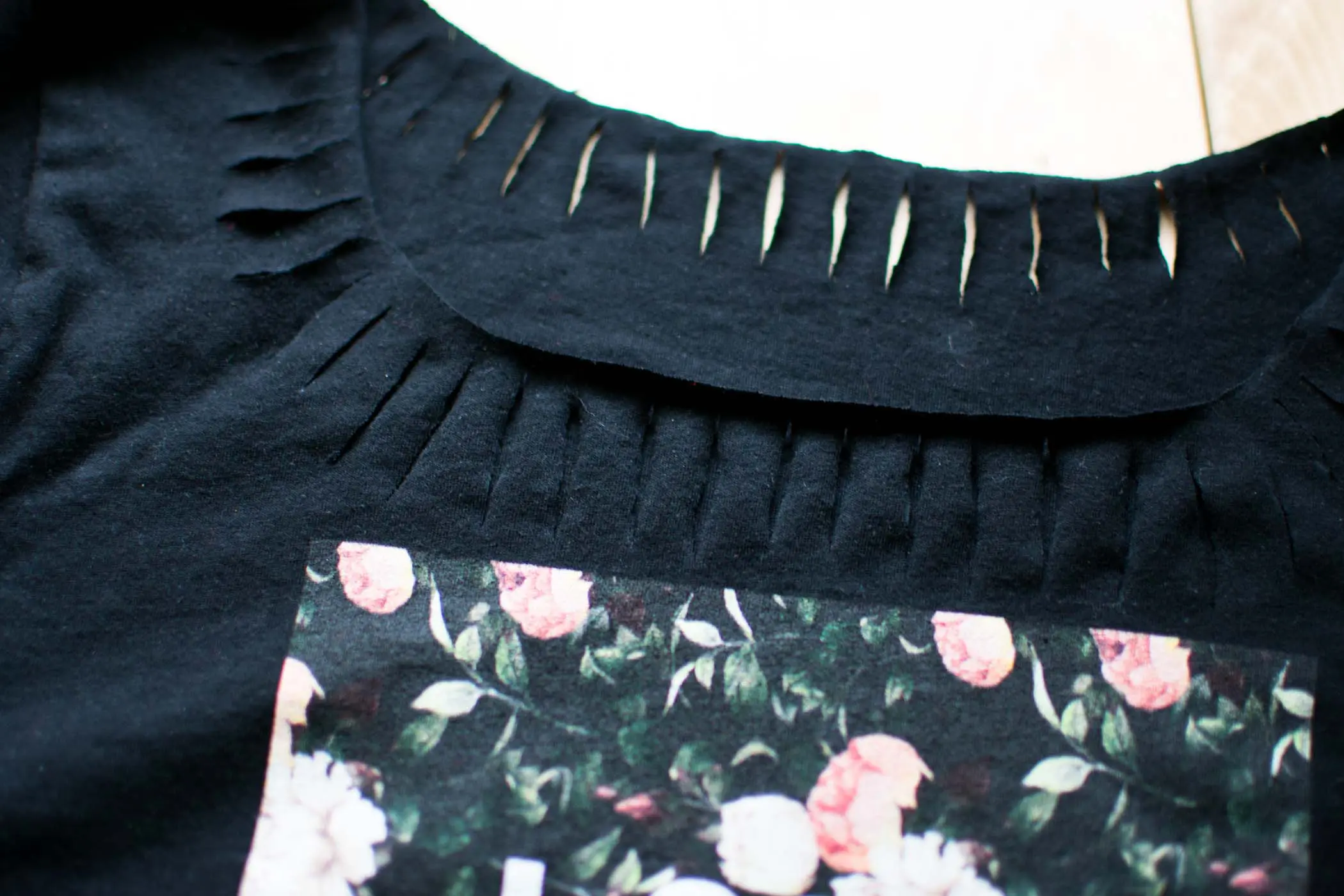 Then I made cuts along the marked lines with small, sharp scissors
.
I left about 1/4 inch from the top and 3/8 of an inch from the pattern so as not to interfere with it. I would not recommend going any closer than this!
If you're working with a shirt without a pattern like this, you can definitely play around with the length and width of your cuts. But since I had a relatively small area to work with, I kept mine closer together and a bit shorter. This made for a narrow braid.
Just make sure your cuts are fairly consistent all the way around.
Making the Braid
I found a tutorial online about how to make the braid, but it wasn't as clear as it could have been, so I had to play around to figure out exactly how it worked.
Hopefully I've made it clear with the pictures below.
Once I got to the end of the braid, I tucked the last loop under the first one and put in a couple of stitches to hold it. But if you don't feel comfortable with a needle and thread (I did say this was no-sew!) you could cut the last loop in the middle and tie it around the first loop.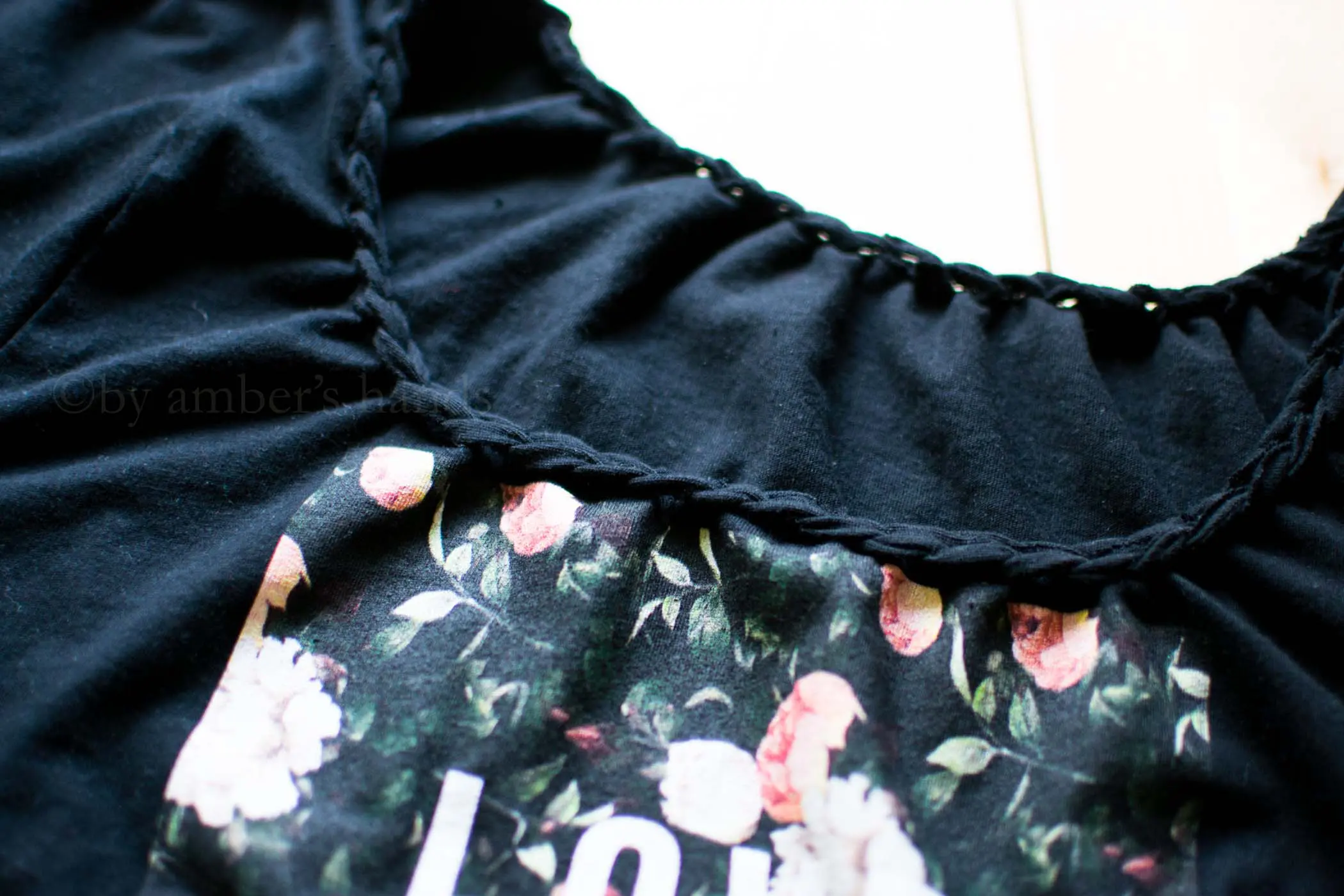 When it's done, it should look something like this.
You can see that the braid gathers the fabric a bit. It's more pronounced when it's off the body, but it's still there somewhat when it's on.
Sleeve Refashion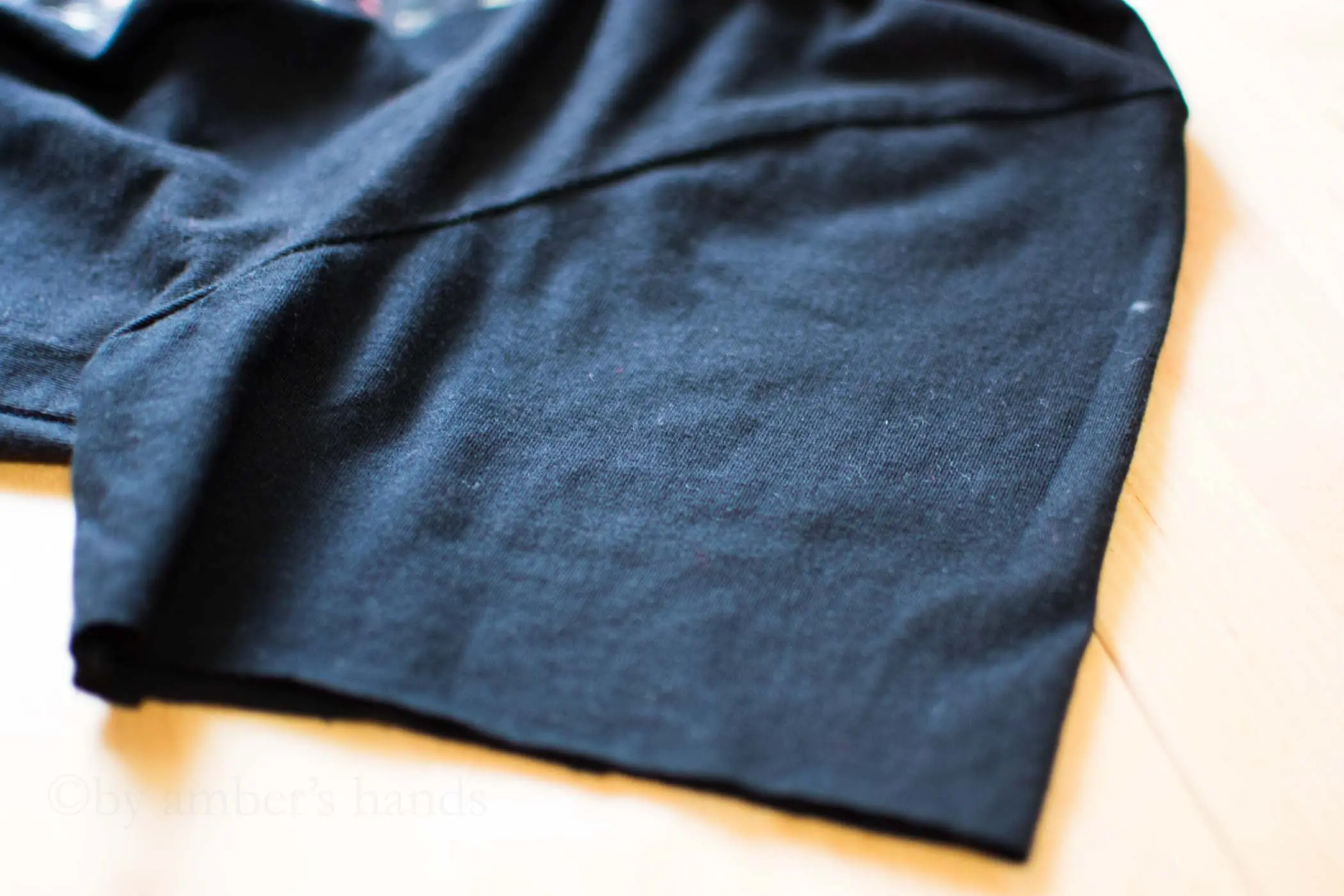 I also decided to change up the sleeves to give them a little more shape.
I cut off the hem of the sleeve first, then I folded it straight at the shoulder seam.
Then I made a mark two inches from the shoulder seam and cut it straight along the fold up to the mark.
If you'd prefer more of a "cold shoulder" type look, you can cut it all the way up to the shoulder seam.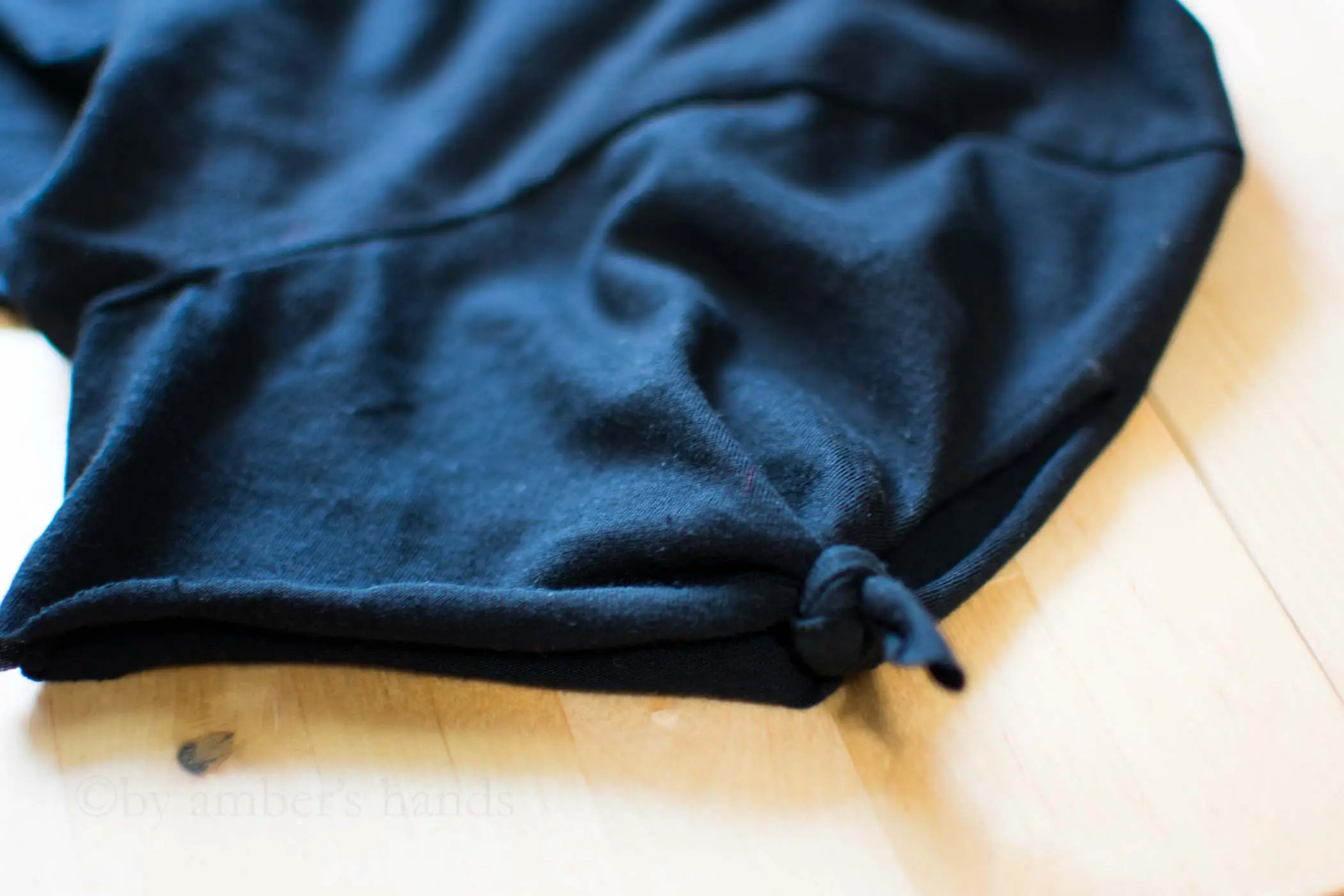 Then I took the cut ends and gave them a tug to lengthen them a little. Then I made a small knot at the ends.
Here's what it looks like finished! My neck can breathe! And the sleeve modification gives it a bit of a cap sleeve rather than the boxy sleeves it started with.
I like it like this with a pair of jeans. But–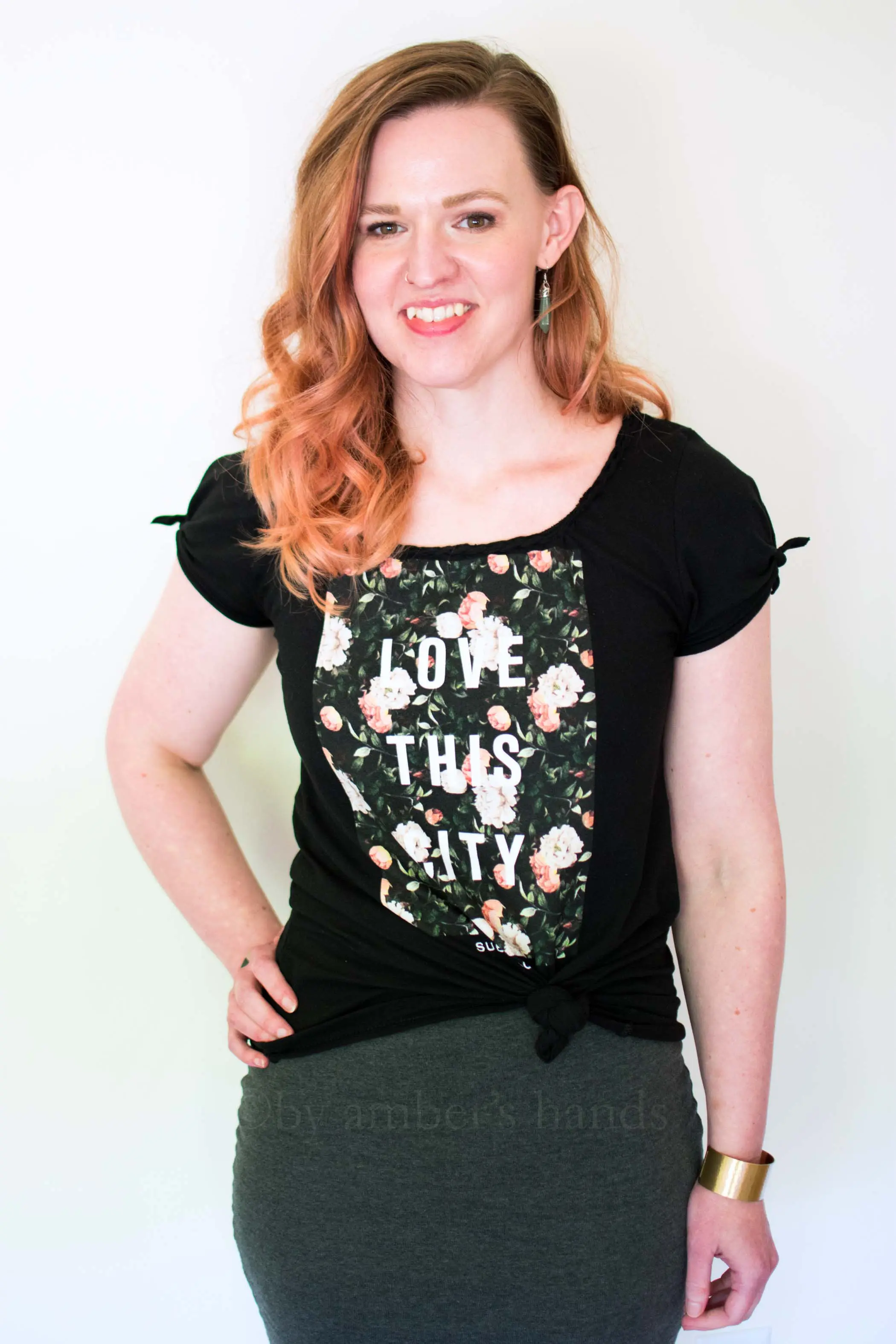 I love it styled with a pencil skirt and a little knot at the bottom.
Then again, I have a pencil skirt obsession, so take that with a grain of salt!😆
What do you think? Do you have t-shirts in your closet that need a refresh?