The links in this post may be affiliate links. This means I may receive a small commission if you buy through these links, at no additional cost to you, which helps me run this blog.
Read my disclosure here
.
Ahoy, mateys! We threw an epic pirate treasure party for my eldest's 9th birthday recently. And it was totally easy! Keep reading to find out how we had such a fun party with minimal work.
Honestly, no matter what, there comes a time in my life before the day of the party when I wish I'd just signed up for a party at some place where they provide all the food and you pay all the money.
This is especially true when you have a child with a September birthday. As soon as school starts, it's time to get invitations out. And then said child's first request for his party involved bank robbers (?!) and other ideas I could neither make heads or tails of.
But in the end, I found a way to make this party really fun without a bunch of stress.
Pirate Treasure Party
Once we established what my 9-year-old actually wanted, we boiled it down to having some sort of treasure hunt. He suggested pirates.
Since he and his friends are 3rd graders now, I wanted to distinguish this party from some of the little kid pirate parties I found on Pinterest. So I decided we wouldn't be pretending to be pirates, but instead we'd set up a scenario where we "found" part of a pirate map.
The Decor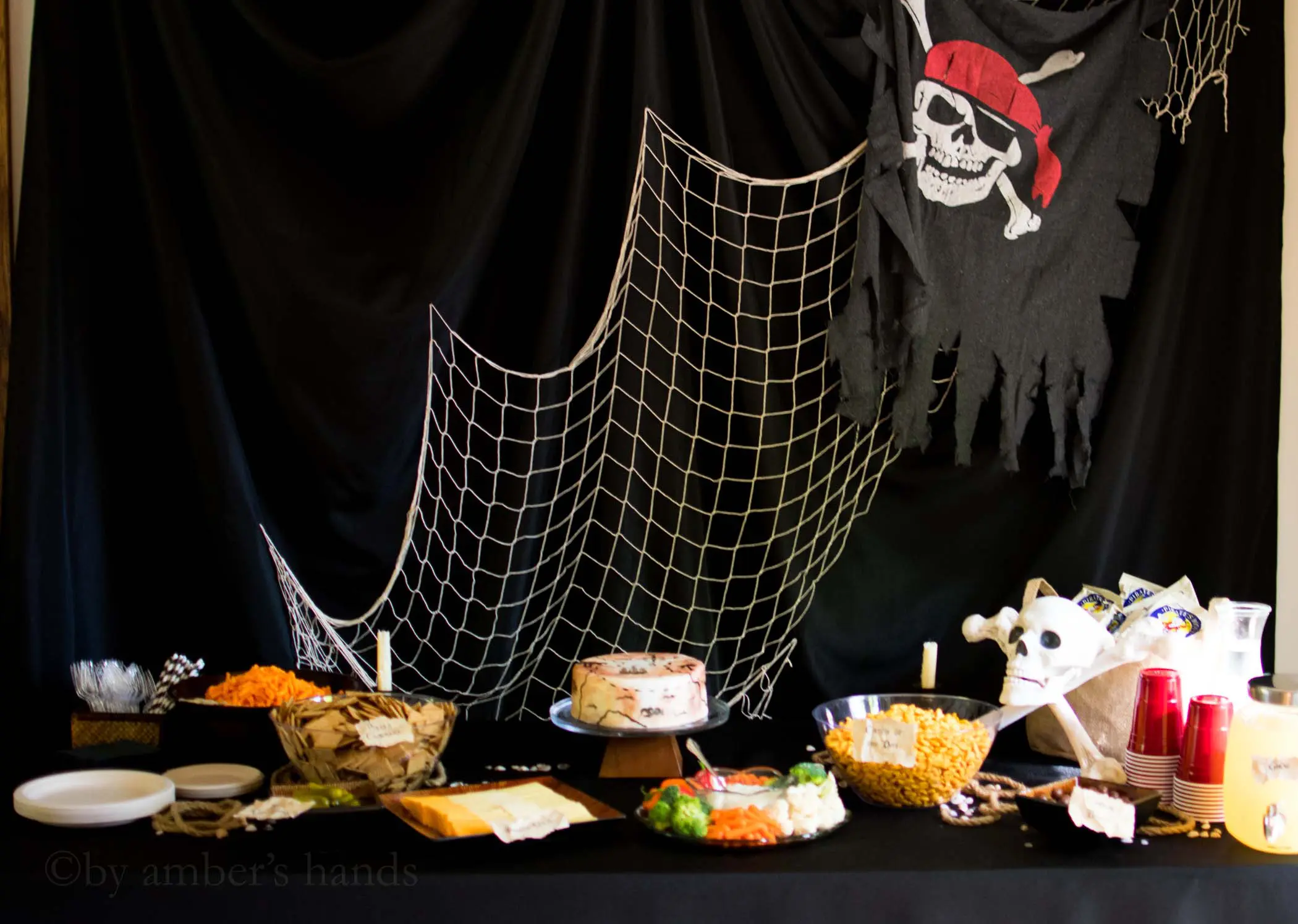 As far as the decor goes, I kept it pretty simple. We used two black tablecloths
, one on the table and one hung behind. Then we got a fishing net
and a pirate flag
to be the focal points.
Other than that, I found some rope and a few seashells at the dollar store, and the Jolly Rodger at Target in the Halloween section. Super simple!
The Food
Another way I made it easier on myself: other than the cake, I didn't make any other food. We just had store-bought snacks and that was it.
I made labels for the food using aged paper (I followed this tutorial, but used tea instead of coffee.) We had Cheetos as "coral," Wheat Thins as "Polly's crackers," cheese as "pirate gold," pickles as "sea cucumbers," goldfish as the "catch of the day," and Whoppers as "cannon balls."
We also had "grog," which was lemonade.
The Cake
I made the cake, but I stuck with a much simpler cake after last year's cake that took forever.
I still ran into a hiccup, but because everything else was so simple, I still had plenty of time to finish before the party.
To help with timing, I made the cake layers, the frosting, and the fondant ahead of time. The night before the party, I layered the cake with the frosting between and did a crumb coat.
At this point I should've put the cake in the fridge overnight, but I didn't have room so I had to put it in our large freezer. The next morning I let it sit out a while, but not for long enough.
So when I went to put the fondant on it and decorate it, it was still thawing out and we had some issues with the "map" lines bleeding like crazy.
So I used paper towels to sop up the condensation and placed it in front of a fan to help speed up the process. It took about an hour, but the outside finally dried out enough and I re-painted the map onto the fondant.
I used gold
, bronze
, and brown luster dust
with a food-grade paintbrush
to create the aged map look, then I mixed brown and black gel food color
with a few drops of vodka to thin it out. Then I used a very thin food-grade paintbrush and free-hand painted the map on the fondant.
I used this chocolate cake recipe, and this salted caramel buttercream frosting (though I used my own salted caramel, not what's written) and this fondant recipe.
The Treasure Hunt
At first when trying to come up with how the treasure hunt would go, I thought about making clues and riddles and things like that. In the end we decided just to create a map and split it up so they'd have to find all the pieces in order to get to the treasure.
This made it so much easier because all we had to come up with were places to hide each piece of the map, then create a map to match.
We aged the map the same way we did the food labels. To tear it exactly where I wanted it, I used a paintbrush with water to draw the lines.
We bought a treasure box on Amazon
. The small option seemed like it would be too small but once I put our "gold bars" (these favor boxes
with chocolate inside) and chocolate coins, there was a lot of space left.
We decided to add a fake bottom (cardboard plus some bolts to keep it from crushing the chocolate) and fill with rocks to make the big reveal more dramatic.
We hid the different parts of the map in various bottles and boxes. Then the containers were hidden in a birdhouse, buried in the sand in the play area, behind the shed, etc.
I will say, their 9-year-old map reading skills left something to be desired. 😉
My husband decided the kids needed zipline in the backyard
, so we added that as part of the treasure hunt. Unsurprisingly, it was a huge hit.
Once we found the treasure (and dealt with a lock issue!) the kids went wild.
At first they were surprised that it seemed to be just a box of rocks. But once they realized there was a false bottom, everything was dumped out and they went after the "gold" like a pack of rabid raccoons.
All in all, everyone had a great time and I didn't lose my mind! I'll call that a parenting win.