The links in this post may be affiliate links. This means I may receive a small commission if you buy through these links, at no additional cost to you, which helps me run this blog.
Read my disclosure here
.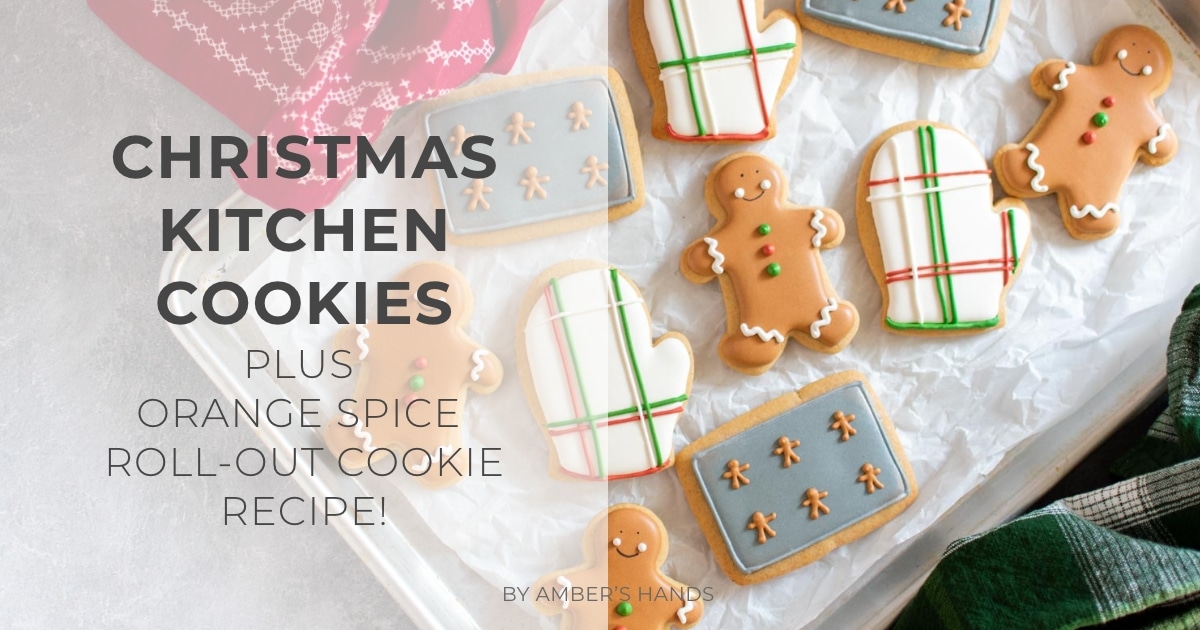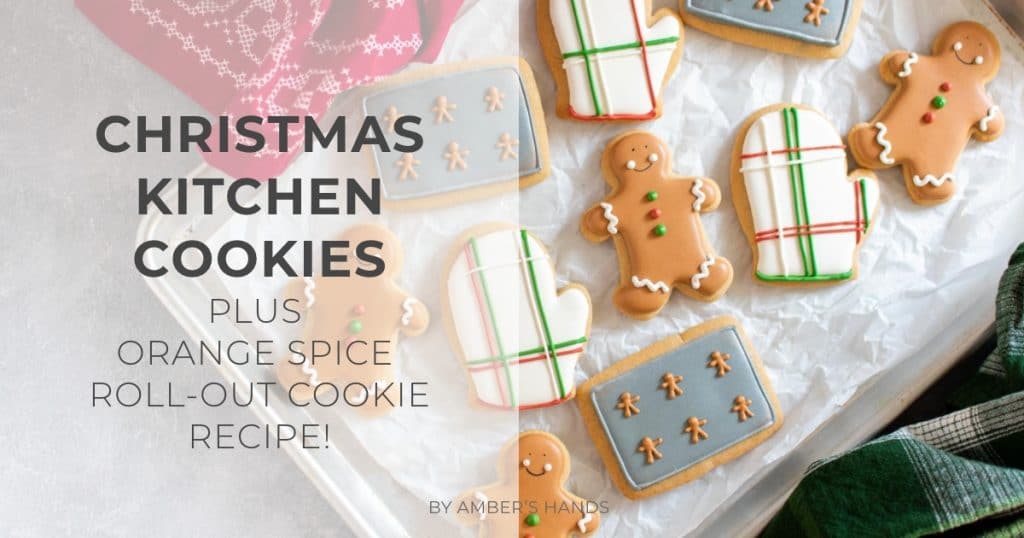 Merry Christmas! This year for our Christmas Cookie theme we did an ode to holiday baking with these simple Christmas Kitchen Cookies! And these come with a new roll-out cookie recipe for orange spice cookies that are filled with festive winter flavor that will delight you!
Christmas Kitchen Cookies
After not making any decorated Christmas cookies last year, we wanted to bring back the tradition, but knew we had to keep things SIMPLE. As it is, baking up four dozen cookies nearly did me in with all the pregnancy exhaustion I'm experiencing.
We decided on a simple 3-cookie design set that are super adorable without being overly intricate. We started making the frosting at about 10 am and were finished by 3. By using 20-second icing to flood the cookies, we were able to work consistently between the three kinds without waiting extra for dry time.
(20-second icing refers to royal icing that has been thinned to a consistency where icing drizzled back onto itself will disappear into the whole in about 20 seconds.)
Tools we used:
Scriber needle tool (or 2-in-1 tool) for spreading and popping bubbles
Royal Icing (my go-to recipe- we flavored ours with orange and vanilla extracts for these cookies)
Orange Spice Roll-out Cookies (recipe below!)
The Gingerbread Men
For the gingerbread men, we flooded them using the squeeze bottles and 20-second light brown icing. Then we left them to set while we flooded the other designs.
Once they were set, we added white embellishments and cheeks and red and green buttons with piping-consistency icing in piping bags.
The next day when they were completely set, I used a black food coloring marker to draw on eyes and a smile.
The Cookie Sheets
The cookie sheets were flooded in the same way with grey icing. Once set (it takes about 20 minutes for 20-second icing to set enough to add to it) we added a grey rim around them with piping icing in a piping bag.
We also used brown icing in a squeeze bottle with a piping tip for the gingerbread figures. The 20-second brown icing we used to flood the other cookies ended up being too thin to get enough detail, so I added some extra powdered sugar to what was left to make a consistency that was stiffer, but not as stiff as piping icing.
The next day, I used some silver pearl dust with a food-grade paintbrush onto the grey. I concentrated it on the edges and gently pulled it into the center around the gingerbread figures. Then I decided to add a little bit of realism by adding a light touch of bronze pearl dust on the edges to give it the patina that cookie sheets get once they've been baked on several times. But that's me being extra and could totally be skipped.
The Oven Mitts
The oven mitts were nice and easy! We simply flooded with 20-second white icing from a squeeze bottle. Then once they were set, we used red, green, and white piping icing in a piping bag to add some straight, overlapping lines to make a simple plaid pattern.
Get More Cookie Inspiration Here!
That's it! So simple and so cute.
Orange Spice Roll-out Cookie Recipe
Ok, let's talk the cookies themselves!
I didn't want to do a straight gingerbread cookie, because… well… boring. Gingerbread isn't my favorite and I wanted them to still have a sugar cookie texture.
But I did want to get in on some of those warm winter spice flavors! So these are kind of like if sugar cookies and gingerbread cookies had a baby.
They have a nice citrus flavor from the orange zest and orange juice, which I balanced with the zing of freshly grated ginger. I added a little bit of brandy as it complements orange so nicely. And then I went with warm spices that you'd find in gingerbread and chai, but kept them light so as not to overpower the orange.
I also used a mixture of brown and white sugars, so you get a little bit of the depth of brown sugar without crossing over into the dark gingerbread territory.
The result is a cookie with crisp edges and a soft interior that's bursting with festive flavors that are familiar but not predictable. I really love how they turned out!
Yield: Approximately 4 dozen
Orange Spice Roll-out Cookies
Somewhere between a sugar cookie and gingerbread, these orange spice cookies are full of holiday flavor with a soft but crisp texture.
Total Time
1 hour
20 minutes
Ingredients
18 Tbsp butter, softened
1 1/2 cups brown sugar
3/4 cup white sugar
3 eggs
1 1/2 Tbsp orange zest (from 1-2 oranges)
1 1/2 Tbsp fresh orange juice
1 Tbsp brandy (optional, but recommended)
1 tsp fresh grated ginger
5 cups all-purpose flour
1 1/2 tsp baking powder
1/2 tsp baking soda
1/2 tsp salt
1 1/2 tsp cinnamon
1/4 tsp freshly grated nutmeg
dash cloves
dash cardamom
Instructions
In a large bowl, cream together butter and sugars with an eletric mixer.
Add eggs one at a time and beat until each is incorporated.
Beat in orange zest, orange juice, brandy, and fresh ginger.
In a separate bowl, sift flour with the rest of the dry ingredients.
Add flour in 3 parts to the wet ingredients, beating just until incorporated. Dough will be soft, but should not be sticky. If it is sticky, add more flour a little at a time until it is not.
Divide the cookie dough into 3 parts. Wrap each portion in cling wrap and shape into a disk. Chill in the refrigerator for at least 30 minutes or until firm.
While dough is chilling, preheat oven to 350°F (175°C).
After dough is chilled, roll out on a well-floured surface with a floured rolling pin to 1/4" thickness. Cut into shapes.
Bake cookies on a parchment-lined cookie sheet for 7-10 minutes, or until set and just barely showing color on the edges.
Allow to cool completely before decorating.
Notes
Spices used can be adjusted to your liking! As written, the orange and ginger flavors are in the forefront with the rest of the spices adding warmth. But if you prefer a stronger spice flavor, increase the spices, add different spices like anise or allspice, or leave out ones that you don't love!