The links in this post may be affiliate links. This means I may receive a small commission if you buy through these links, at no additional cost to you, which helps me run this blog.
Read my disclosure here
.
Hey guys! I was going through some old photos and I found this great little project I never shared with you! I am all about fostering a love of art in children, and this kids canvas art project is a perfect way to get your littles involved in creating an art piece that is something you'll definitely want to hang up in your house!
What You'll Need
There is very little you'll need for this project! You will need:
Canvas
 – You can use any size, but we used 8″x10″ for this project
Paint
 – You'll definitely want washable! This is the kind we used.
Paintbrushes
 – You'll want some that aren't too small. I like a variety of round and flat brushes. (I love the set we have from Ikea!)
Optional: additional cups or jars for mixing custom colors. We love these spill proof paint cups
 for tons of projects!
Creating the Canvas Art
We made two canvases for my mom and grandma a couple of years ago for Mother's Day. My kids and my nephew worked together to make them. These photos are all from my old camera, so excuse the less-than-stellar quality.
We started by letting the littlest ones paint the background. Once the background was dry, we had Little Man come in and create something recognizable.
Bean was around two, and my nephew Sweets was around 18 months old. So as you can see, you can really do this project with kids of almost any age!
Tips For Creating Art With Kids
I'm all for letting kids create completely unencumbered most of the time. But if we're making something that I want to actually display in our house (or for someone else's,) here are three things I do to ensure we end up with something we all like.
Pick The Color Palette
If you only put out certain colors, those are the only colors they can use. So go ahead and pick ones that will match the room you're wanting the art for. Picking colors in the same color families will also help keep things from getting muddy. For the canvas above, we used blue, green, and yellow. If we'd also included red or orange, it would've been difficult to keep the color looking nice.
Offer A Little Guidance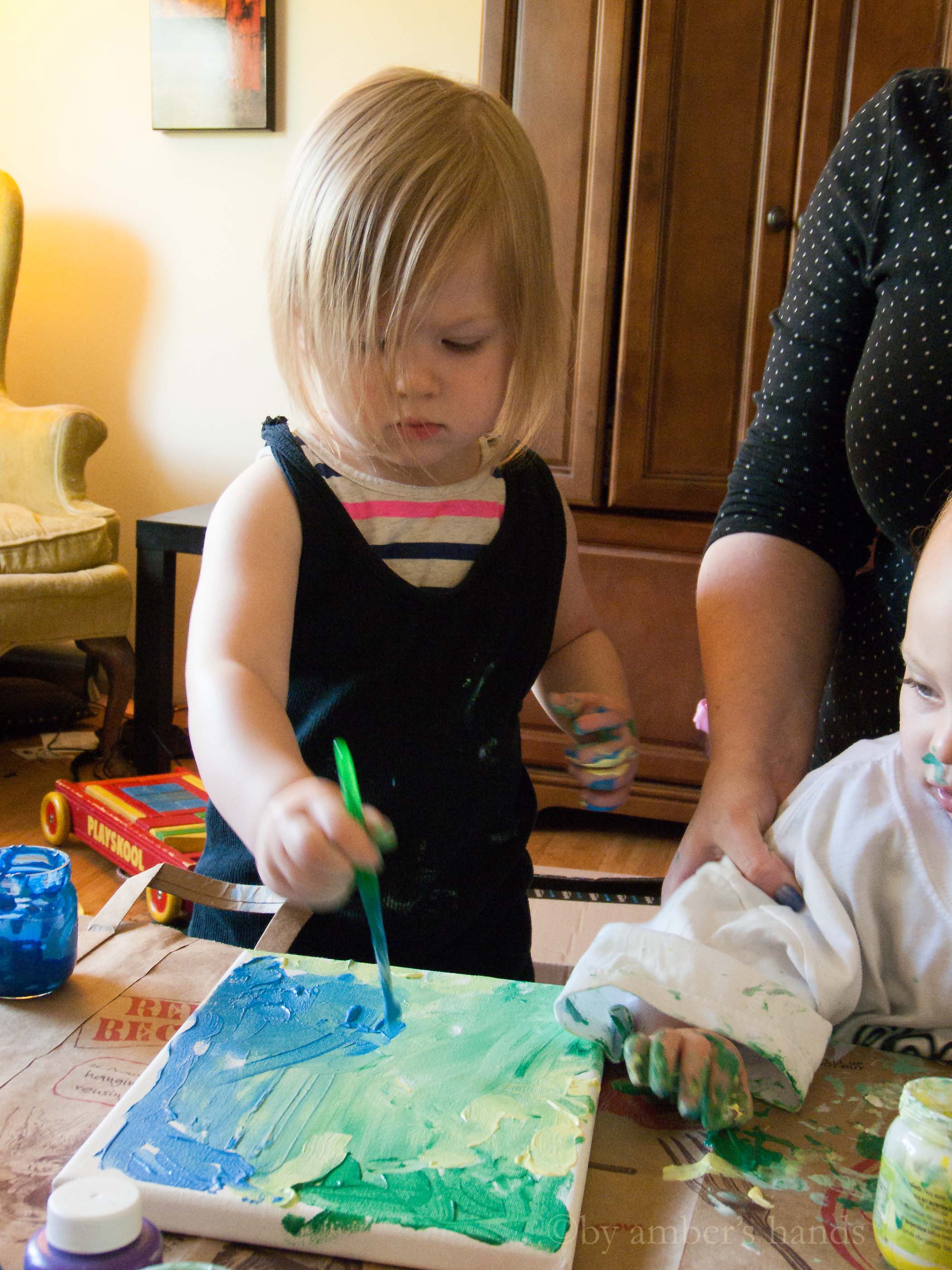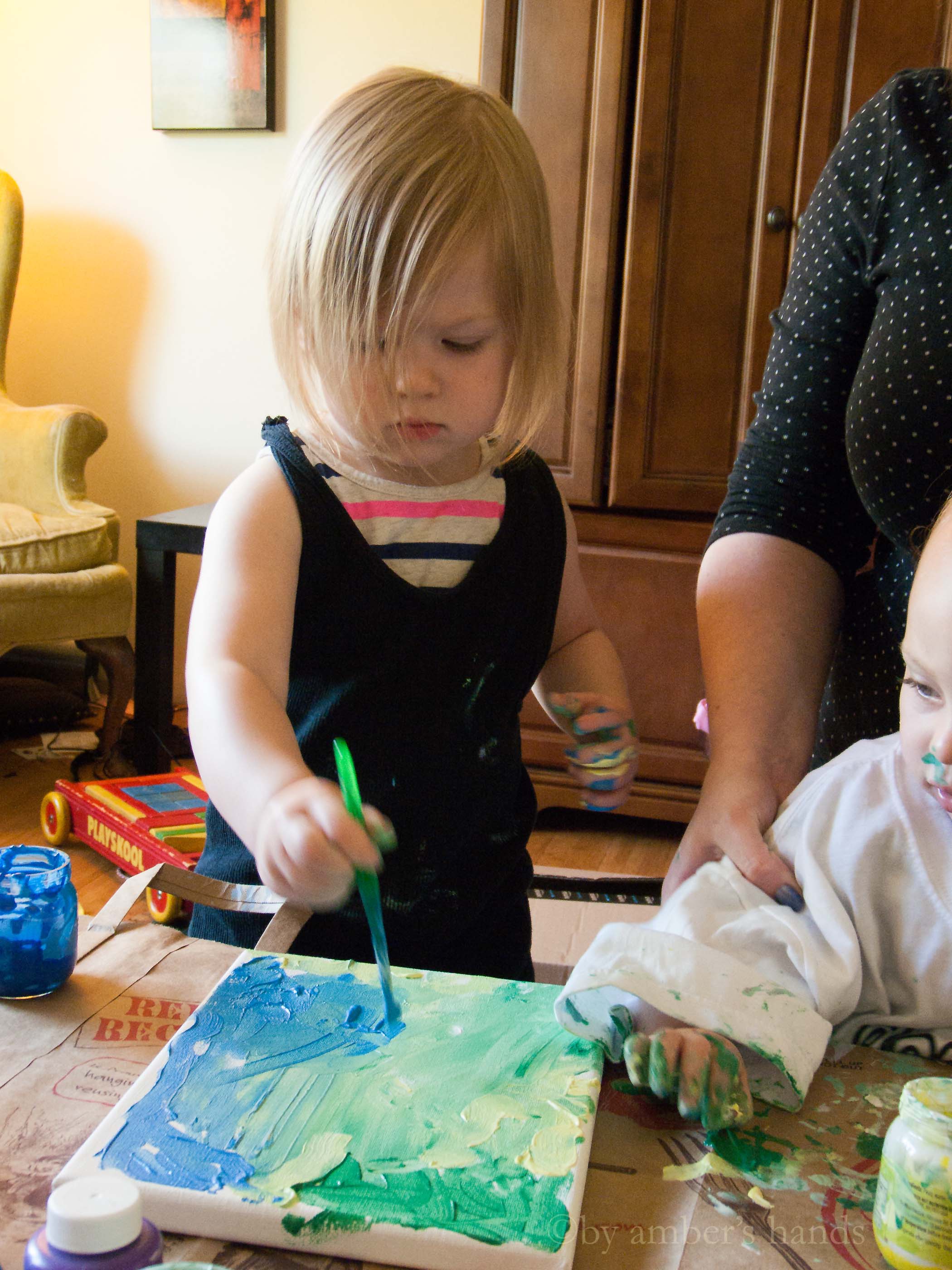 I definitely didn't want to tell the kids what to paint. But offering some tips like "Make sure you cover all the white area" can help ensure the project gets to where it needs to go. To keep the process enjoyable for everyone, don't try to dictate everything they do. Keep the suggestions to a minimum. And if your kid would enjoy it, grab a paintbrush yourself!
Tell Them When it's Time to Stop
This one is very important. If your kids are anything like mine, they will just keep painting the same areas over and over and mixing it all together until it becomes one unappetizing shade of beige. So watch what's happening. Once the whole canvas is covered and you have a general balance of colors, tell them it's time to stop. If your kid is going to balk at being told to stop, have another piece of paper ready for them to paint.
When the background is dry, it's time to make the focal point. Little Man was five when we did this project and he did a fantastic job. The canvas above is the one we made my mom. We designed it to match her sewing room and LM did a fantastic job painting a flower for her. She really loved it!
I love this project because it still has the charm of a kid's painting but is put together enough to look nice on a wall. It's a perfect gift for grandmas but would also be so cute in a kid's bedroom or playroom.
Try it out! And then show me some pictures of what you create with your kids!
Want More Kids Art Projects?
Check out these other projects you can do:
Sweet Heart Wall Art: Collaboration in Art